Our Story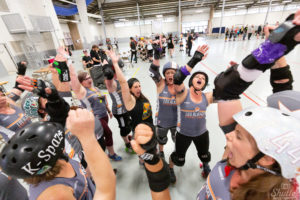 Los Alamos Derby Dames is a flat track roller derby league founded in 2011 by a group of women looking to bring  roller derby to their small town. As a league we strive for excellence in the field of roller derby and take pride in the warm, diverse, and fun-loving group we have become. LADD was granted tax-exempt status as a 501(c)(4) organization in the winter of 2016 and became a full member league of the Women's Flat Track Derby Association (WFTDA) in the spring of 2017. Reaching these milestones fortifies our mission to contribute to both our community the sport of roller derby.
Our Mission
The Los Alamos Derby Dames promotes the sport of women's roller derby through the training and development of female athleticism within the local community. LADD strives to promote the empowerment of women and folks of all races, national origins, sexual orientations, ages, religious beliefs and body types by providing positive athletic role models and creating a community based sport for those of any skill level. Training and competing allows for the growth of several values, including but not limited to; appreciation for hard work, a sense of loyalty and good sportsmanship, personal pride, integrity and ethical conduct.
Our Community
The Los Alamos Derby Dames strive to do our part in the community. We have worked with several local groups and causes including Breath of My Heart Birthplace, Famine to Feast, Los Alamos Adopt A Family, Los Alamos Historical Society, and Los Alamos Friends of the Shelter. We are always looking for opportunities to help when and where we can. If you have an organization, fundraiser, or donation drive you'd like to share, please contact us.