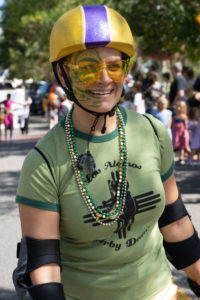 Derby name: Rose E Knuckles
Number: 18
Derby Nickname: Knuckles
Significance of name/number: 18 for my birthday and knuckles 'coz I'm a fighter!
Derbyversary: August 2019
Outside of derby: Paper pusher
Favorite Position: I'm new at this, but I figure I'd like to play both sides and be a pivot.
Favorite Food: Depends on who's making it. Mom's stuffed sopapillas, Dad's chicken fried steak, Grandma's spaghetti or sarma.
Pre-game song: Peni Parker's Theme Song
Why derby? I chose derby for the hitting! Well, I also needed something new in my life to feel like I was a part of something and to grow personally and socially. This sport has challenged me to do both.